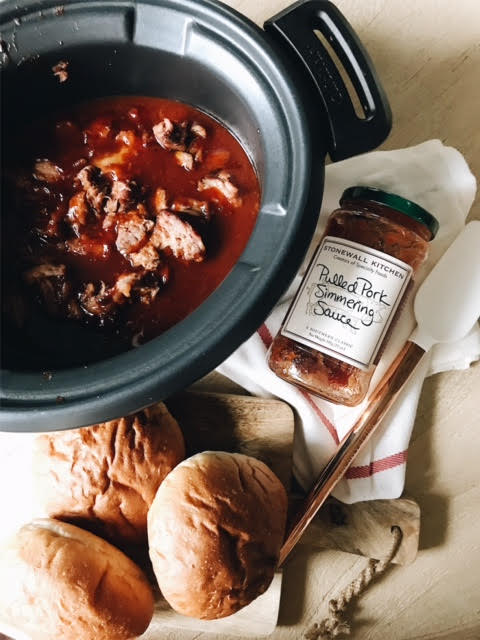 simple easy dinner by the found cottage
Hey friends! Abby here! I guess this is my first official blog post on here. You can usually find me over at my personal blog but today I'm excited to share one of newest products at The Found Cottage.
Typically we are elbow deep in home decor, gifts and clothing but hey we all have to eat right? We are foodies at heart over here and were so excited when Stonewall Kitchen approached us about carrying a selection of their products. As we unpacked the boxes we kept setting jars aside for ourselves. I went home with the pulled pork simmering sauce, truffle aioli and salted caramel sauce.
Living on our farm I can, preserve, pickle and cook most of our food. I love planning out my meal strategy for the week and Joe (my husband) and I typically cook dinner together about 4-5 times a week. Sometimes though you need a little quick fix and rather than order some greasy take out (which is always delightful at first) I thought I would give this pulled pork sauce a whirl.
You guys… it was fantastic. I'm not only saying that because we sell it, but it's true. I hauled out my slow cooker, put a hunk of pork butt in it, poured the sauce over top and cooked on low for a few hours. I picked up some good bread buns from the local baker and some frozen fries from trader joes and it was a quick fast and delicious meal. (we dipped fries in the truffle aioli).
The simmering sauce had a nice light heat to it with a hint of sweetness. I think it would even be good over chicken and used like a BBQ sauce. The truffle aioli was awesome for just fries but it would be amazing on a mushroom onion swiss burger or even mixed in to a potato salad. The best part? The entire meal cost me less than $20 (not including the wine haha). Everything we have in store from Stonewall Kitchen is under $10. I think the next thing I'm going to try (other than that caramel sauce) is the Pad Thai starter. Stay tuned!